Ref:
Date:
Location:
Photographer:
Ref:
Date:
Location:
Photographer:
Textural Landscapes Using Acrylic Gels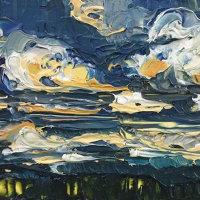 Tutor: Sally Hirst B.A (Hons) PGCE GAEP
Have you ever wondered what all those acrylic pastes gels and mediums are for, what they do and how you can use them? This one day workshop will enable to you to build and complete a series of paintings. Known for her semi-abstract and textural paintings Sally will show you how textured gels can be mixed and layered with acrylic paints to create rich landscapes. You will learn how you can change the viscosity of your paints, create glazes and textures, and discover the different effects possible with gels. This workshop is aimed at beginners, but anyone can join in! With a maximum of 5 participants you will be given individual attention and guidance by a trained tutor. If you have any landscape drawings or photographs you would like to use as reference materials do bring them along but Sally will bring some too.
Max 5 per class
Date: Wednesday 15th January - 10.30am to 4pm each day
Cost: £70 (includes materials & equipment)